General Informations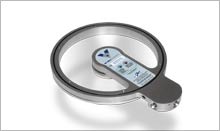 VISIPORT® Spin Windows are applicable with all types of lathes, milling- and machining centres.
The spin window is turning over 2100 RPM and sling off coolant and chips for a superior view into your machine .There are two lines of spin window solutions, each designed to match specific customer needs. The Visiport® series with high torque electric motors, are for harsh environments with continuous coolant flow and extensive chip bombardment.
For light to medium environments, with alternate coolant spray and chip debris, the lightweight DiscAir series represents a further solution with an excellent price to performance ratio. All Visiport® spin windows offer an easy installation with different fixing options, full visibility and uncompromising safety especially if you combine it as an integrated-system with a laminated protective window from the worlds leading producer.

Available Products
Use the chart below to select the appropriate spin window. In case of further questions, feel free to contact us

Model overview
| Model | Overall diameter | Profile Height | Vertical Height | Weight | Glas Thickness |
| --- | --- | --- | --- | --- | --- |
| Visiport® VP220.C2 | 10" (253mm) | 1.75" (45mm) | 12.375" (315mm) | 4.84lb (2.2kg) | .120" (3mm) |
| Visiport® VP220.C | 10" (253mm) | 1.75" (45mm) | 12.375" (315mm) | 4.84lb (2.2kg) | .120" (3mm) |
| DiscAir DA230 | 10" (253mm) | 1.74" (44mm) | 11.75" (300mm) | 3.9lb (1.8kg) | .120" (3mm) |
| DiscAir DA175T | 8" (203mm) | 1.75" (45mm) | 9.3" (236mm) | 1.6lb (0.7kg) | .079" (2mm) |
Quick Product Overview