Protective windows for machine tools are highly developed components.
The protective window offers two main performances.
First of all it is designed to protect the workers from ejected machined parts (retaining performance) and secondly the protective window, especially in combination with a spin window, provides full visibility and transparency during the manufacturing process (visibility performance).
The industrial statistics show, that workers are still injured by flying machined parts ejected while processing, so therefore it is essential to take care to obtain the right window!
Visitec provides 3 Designs of protective windows: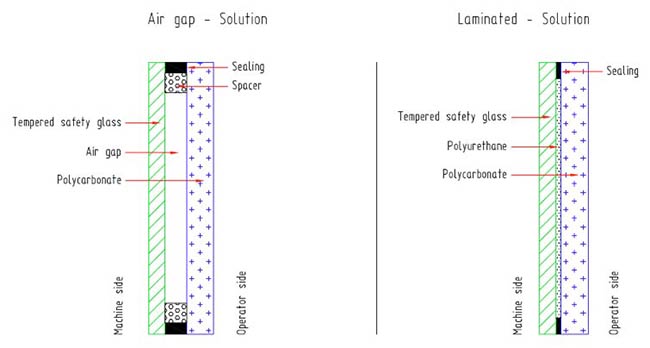 All of these designs could be sealed for permanent and efficient protection against chemical influences in a stainless steel frame, with aluminium-tape or with a NBR-rubber-profile.
There are some standard-types of frames, but Visitec offers also according to customer requirements!
Competitive Advantages:
Multiple-element system on the basis of a special and exclusive production process
Symmetric and asymmetric structures
Protective window with or without frame
Products designed for Visiport® spin window (integrated system!)
all EN certificates
full edge sealing of the protective window ensures highest possible protection from lubricants and chemical attacks
Use of sealants which do not degrade polycarbonate

Individual solutions according to the customer needs